Personal Watercraft Repair - Hit the Water with Confidence
Hassis Paintworks is a trusted provider of PWC (Personal Watercraft) and trailer body repair services in Stillwater! We are proud to offer reliable, high-quality repairs for PWC and trailers to our valued customers. Our team of experienced technicians have the skills and knowledge to tackle any repair, no matter how big or small.
Did you borrow your jet ski to a friend and they had an accident? No worries, you are not alone! Hassis Paintworks can fix your jet ski and put it back to pre-accident condition. Whether the front bumper is completely ripped off or they scraped the entire hull up on a rock we can fix it.
Hassis Paintworks repairs and fixes a variety of items in addition to boats. If it is gelcoat or fiberglass, we can fix it! You can get a sense of the scope of our repair services through the photos below. Pictured below (clockwise): Jet Ski, Boat Trailer, Motor Cover, Paddle Boards, and Fiberglass Man Holes at MSP Airport.
Whether you need to repair a hole in the side of your jet ski or you want to fix up a scratch on the surface of your stand-up paddle board, our team can help.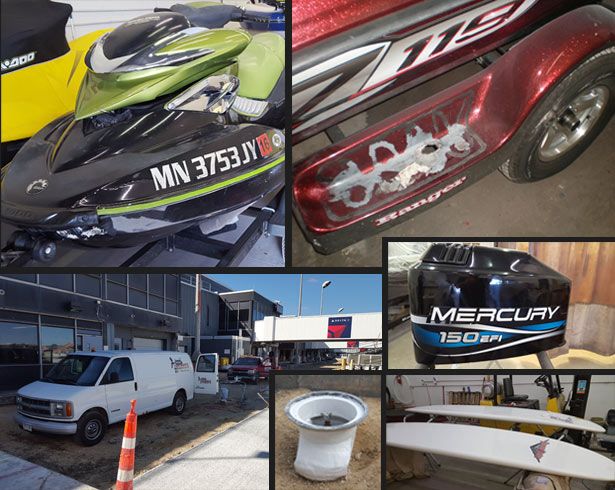 JET SKI & PWC REPAIR SERVICES
At Hassis Paintworks, we understand how important your PWC is to you, which is why we take pride in offering comprehensive body repair services to keep your craft in top condition. We specialize in repairing all makes and models of PWCs, including Yamaha, Sea-Doo, and Kawasaki. We offer a range of repair services, including:
Scraped Hull
Bashed in Bumper
Dock Rash
New Parts or Mats
Graphic & Decal Replacement
Stress Cracks
Gouges
And more!
Our team has years of experience working with PWCs, so you can trust us with your repairs knowing that we only use quality parts and equipment, ensuring that your PWC is repaired to high quality standards.
TRAILER REPAIR SERVICES
Your trailer is just as important as your PWC or boat, which is why we offer trailer repair services at Hassis Paintworks. From minor cosmetic repairs to major structural repairs, our experienced technicians can handle any problem your trailer may encounter. Our trailer repair services include:
Fender Replacement
Stress Cracks or Gouges in Fiberglass Fenders
Bunk Replacements
Welding and Frame Repair
Structural Repairs
Light Replacements
And more!
Our team has an array of experience working on lots of different makes and models. We also have the ability to remove and block your boat or pwc while we repair your trailer. Let Hassis Paintworks repair your trailer and get you back on the road to transport your favorite toy!
WHY CHOOSE HASSIS PAINTWORKS?
At Hassis Paintworks, we take pride in our ability to provide outstanding fiberglass, aluminum, and metal repairs. Don't think that Hassis Paintworks only fixes boats and jetskis as we have fixed fiberglass furniture, double bass instrument, large fiberglass vase water feature, etc.
Hassis Paintworks is the go-to for ANY fiberglass and aluminum repairs. RVs, Fish Houses, Vehicles, Toy Haulers, Campers, Boats, Ice Shacks, PWCs, Pontoons, Trailers and more! Stop by today for your custom written estimate on your repair. When you choose to work with us, you can always expect:
- Experienced technicians who specialize in body repairs
- Comprehensive body repairs that ensure your trailer or craft is in top condition
- Quality parts and tools used in every repair
- Proactive approach in identifying potential future issues
Don't let problems with your PWC or trailer ruin your fun on the water. Contact Hassis Paintworks today to learn more about our expert PWC and trailer repair services or to schedule a consultation. We look forward to serving you!