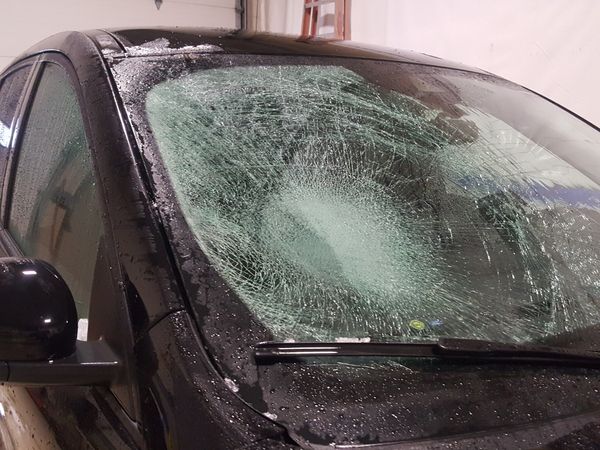 Restore Your View With Auto Glass Replacement
At Hassis Paintworks, our auto body technicians provide full auto glass replacement services, in addition to other automotive repairs. We understand that glass damage can be a hassle and expensive, so we work with all auto insurance claims to get you back on the road quickly, safely, and affordably. Our dedicated team is here to ensure that you receive the best service possible and that your glass replacement is done to the highest standard.
If you have experienced a crack, chip, or a full on shatter of your front windshield or any of your windows, bring your car in to Stillwater's most trusted auto body technicians. Get your glass replacement handled in a professional manner that will leave you smiling.
The importance of having your damaged windshield replaced cannot be overstated. For starters, it's flat out dangerous to drive with a cracked or damaged windshield, as it can impair your ability to see clearly. In fact, in some cases it may even be against the law to drive with a damaged, cracked, or broken windshield.
A cracked or chipped windshield can also compromise your vehicle's structural integrity. Cracks and chips can lead to full-on shatters, which can not only create a mess but also cause serious bodily harm. If you have a damaged windshield, or even cracked or broken windows on either side, it's imperative that you get them taken care of for the safety of you and your passengers.
Fortunately, our auto body technicians can take care of your glass replacement needs from front to back, and top to bottom.
With Hassis Paintworks, you get superior customer service from a local, family-owned company. We strive to provide the best auto body repair services around, and we're proud to serve Stillwater, Minneapolis, St. Paul, Minnetonka, Woodbury, Afton, Prescott, Red Wing, Hudson, Maplewood, Roseville, Lake Elmo Bayport, Mahtomedi, Little Canada, and indeed the entire metro area.
If you need a trusted auto body technician that you can count on for your automobile's glass replacement, then call Hassis Paintworks to get your free estimate and hit the road in no time!
Get In Touch With Us Today