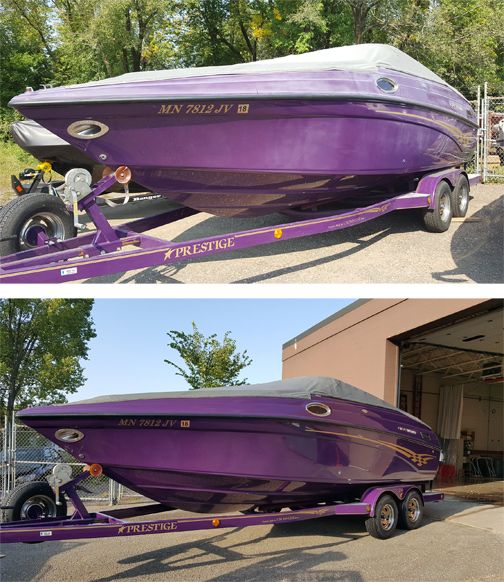 Our detail technicians at Hassis Paintworks can provide everything needed to make your watercraft look new again. Does your watercraft look dull? Why not let Hassis Paintworks buff and wax it? We will make your boat shine like new! Does your boat look chalky or can you feel the flake through the clear? Let Hassis Paintworks refinish your boat and bring back that beautiful shine.
Interior Cleaning
Exterior Washing
Leather / Vinyl Condition & Protection Treatment
Spot Cleaning for Carpets / Aqua Traction
Mildew Removal
Buffing & Waxing
Canvas Waterproofing
Graphene / Wax Treatment
Acid Washing
And More!
It's amazing the difference that boat detailing can make to the feel of your watercraft. You might not be in the market for a new boat, but boat detailing can truly make your vessel feel brand new again. Give our team a call in Stillwater, and we'll be happy to provide a quote or more information about any number of our services.
Boat Buff and Wax
Do you have any minor scratches? Are you looking to have your boat shined up and wax applied, so you are ready to hit the water? We can buff out any small blemishes and wax your boat, so the exterior will shine like new.
Boat Sanding, Buff and Wax
Does your boat look chalky? This is called oxidation and is from the sun drying out the gelcoat on your boat. Let Hassis Paintworks do a test spot to see if your gelcoat can be saved. If your gelcoat isn't too dried out, Hassis Paintworks can save your gelcoat finish by sanding off a very minimal amount of gelcoat to expose brighter gelcoat which is underneath, so the exterior will shine like new.
If your gelcoat is dried out too much or you can feel your flake on your boat, then Hassis Paintworks would recommend refinishing.
Boat Bottom Cleaning (Acid Washing)
Don't you hate pulling your boat out of the water and seeing the nasty scum that has accumulated on the bottom of your boat? You have even taken a pressure washer to the bottom of your boat (be very careful as you can damage the gelcoat if your head gets too close) but nothing happens as the bottom of your boat is stained. Acid washing gets rid of the residue left behind by algae and the scum lines. , that adds undue weight to the bottom of your boat. We also offer bottom painting which is an antifouling paint which impedes growth of barnacles, algae, and marine organisms.