Group Picture - Coming Soon!
Tom Nelson
Manager | 40+ Years Experience
I grew up in south Mpls, went to high school at Burnsville Sr. High, and went to Dakota Co. Vo-Tech for construction and Autobody. I started in the autobody business in 1979, where I painted cars for ten years before becoming a tech. I was then an autobody tech and frame tech for another 10 years. Started SLPC in 1991-2005. In 2005 I went back into construction business as a construction superintendent till I was layed off in 2011. My true love is the collision business, I'm a great tech but even better with dealing with the general public. My true talent is writing estimates and educating the general public as to what it takes to repair their car or boat. I believe that I am one of the best in this business. I also love to hunt, fish, and ride my Harley. I have two grown children in which my son has followed me in this industry and is one of the best painters I have worked with. Most of all I have grown to love Stillwater area and the people from this area are the most genuine people I have ever worked with and enjoy meeting and working with. After 40+ years in this business I still enjoy setting up and doing it again the next day. Last but not least, I want to commend Hassis Paintworks for their reputation and fairness to everyone we work with and my goal is to keep the tradition alive and glad to be a proud member and leader of the team. Jason Sinclair
Estimator | 20+ Years Experience
I have been in and around the automotive business since 2000 as a new car prep technician, service technician, and service advisor/manager. I grew up in the area and still currently reside here. I like to spend my free time golfing, spending time on the water boating and spending time with family and friends. In the spring of 2017, I had Hassis Paintworks do some major structural work on my boat. From start to finish on this project the communication on the work that needed to be performed and the timeline of this repair was explained to me down to the last detail and in a very professional manner. The end product was amazing! A few years have passed and I am excited to have joined their outstanding team in bringing top notch customer service and outstanding workmanship on any job big or small.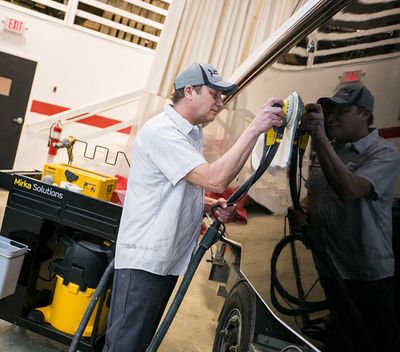 Mike Parks
Fiberglass Repair Technician | 40+ Years Experience
I started my career at Johnson Boat Works in 1983. My dad was a boat builder and made all the molds. There I began working in the fiberglass shop where I learned boat building and mold making. When the company sold, I went on my own doing repairs for marinas and customers. In 2003, my dad and I had the opportunity to build a 38 foot racing "A" scow for Brad Robinson. We started with a rough plug and proceeded to build the molds and then the boat. It was named Victory and for good reason. I've met many great people in the boating world. Now, I am working for Hassis. Chris, Jana and our crew are superior. There is literally nothing we can't fix and the quality of our work is outstanding. I know how boats are built and the strength/cosmetics it takes to repair a boat properly.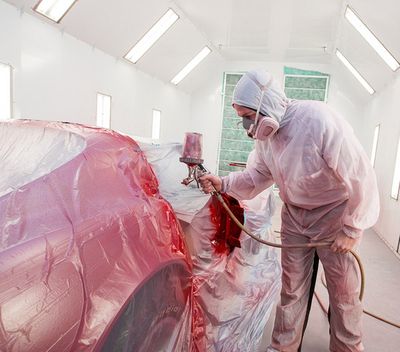 Jason Rogers
Refinish Technician | 25 Years Experience
I have worked on basically everything, including: airplanes, boats, tractors, collector cars/trucks, race cars, European war plane, every type of automobile, motorcycles, campers, etc. I started working as an autobody technician/painter in 1997 part time and then transitioned to full time in 1999. I am a hardworker, problem solver, and I pay attention to detail. I was born and raised in New Richmond, WI. I enjoy hunting, being outdoors, riding motorcycle, shooting trap, and spending time at our cabin with my wife and our 2 dogs. Bill Teskey
Automotive Repair Technician | 35+ Years Experience
I graduated from Dunwoody college of Technology, in the field of autobody repair, in the early 80's with a 4.0 GPA. Since then, I have been repairing cars and trucks for 37 years. I have become I-CAR Platinum Certified and ASE Master Tech Certified. I also have 3 welding certifications in Steel MIG, Aluminum MIG, and Silica Bronze. I have been doing Paintless Dent Repair (PDR) for 24 years as it has become a very popular way of removing minor door dings and hail damage without having to paint you r vehicle. I have been married to a wonderful woman for 33 years and have a son, daughter, and 5 grandchildren. In my spare time I enjoy working around my home, playing with my German Shepard and riding my Harley Davidson motorcycle. Robbie Stenger
Fiberglass & Body Repair Technician | 25+ Years Experience
Darrel Erickson
Fiberglass Repair Technician | 10+ Years Experience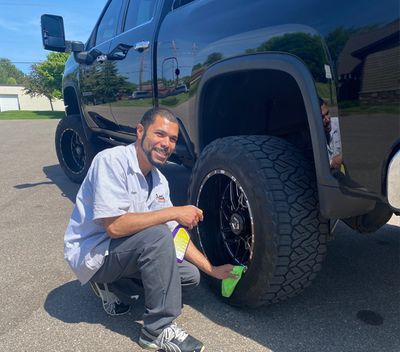 Adam Wilson
Detail Technician | 5+ Years Experence